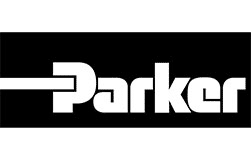 ISO pneumatic cylinders, stainless steel cylindrical profile - Parker P1S series
Parker P1S series stainless steel pneumatic cylinders have been specially designed for use in particularly demanding environments. The rod, cylinder tube and flanges are all made of stainless steel. Flanges have no recesses or other grooves to reduce areas where dirt or liquids can collect, ensuring easy, effective cleaning. This hygienic design, with external seals in fluorinated rubber and pre-lubricated with USDA-H1 industry-approved food-grade grease, makes these cylinders particularly suitable for use in the food industry.
A version in sizes Ø10 to Ø25mm to ISO 6432 incorporates fixed cushioning, while sizes Ø20 - Ø125mm feature adjustable pneumatic cushioning with screws for precise adjustment. Adjustable pneumatic damping enables higher loads and higher operating speeds, making the cylinder suitable for more demanding applications with shorter cycle times. Fixed dimensions to ISO 6431/6432 simplify installation.