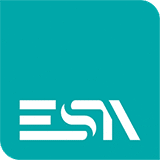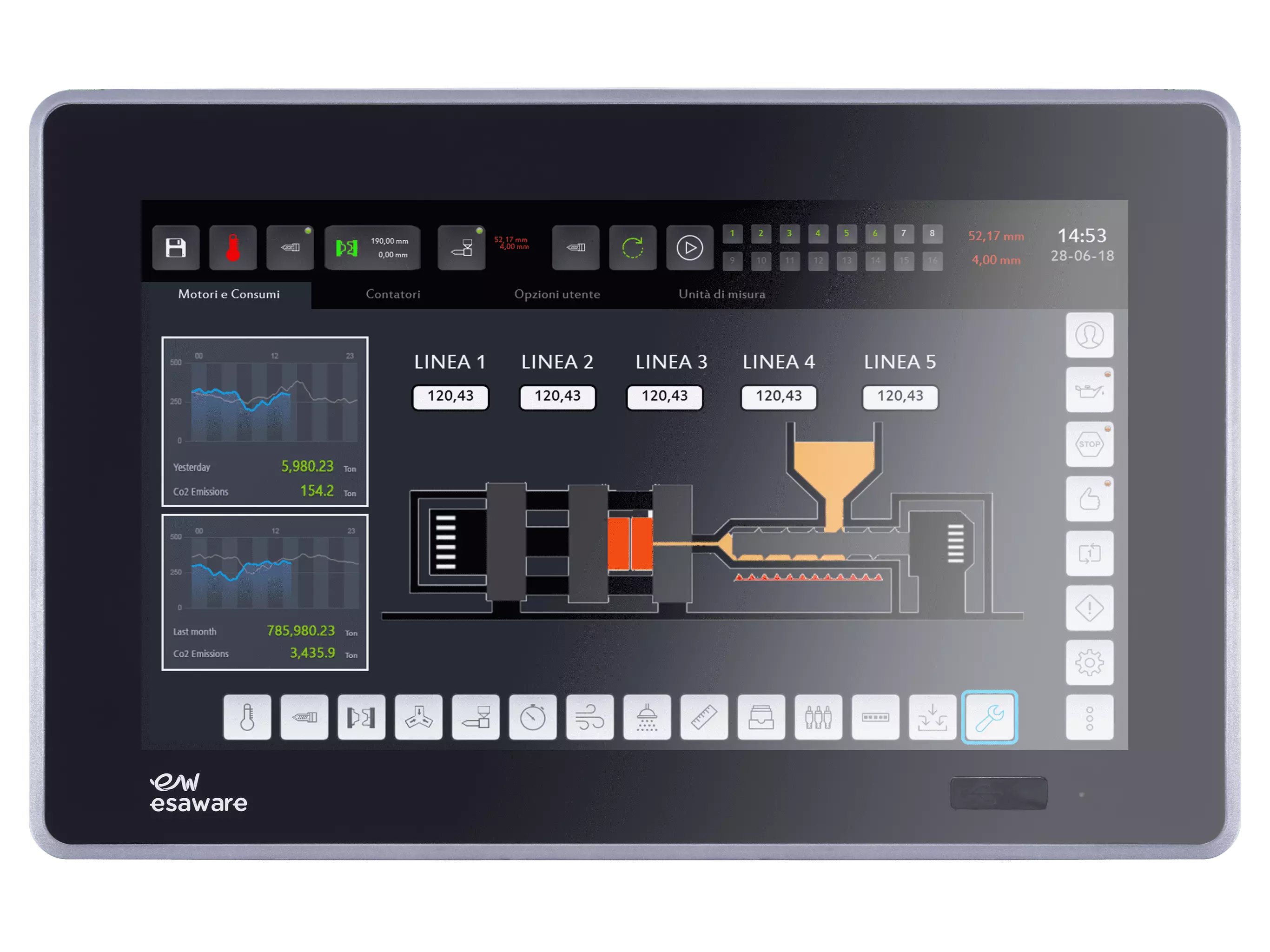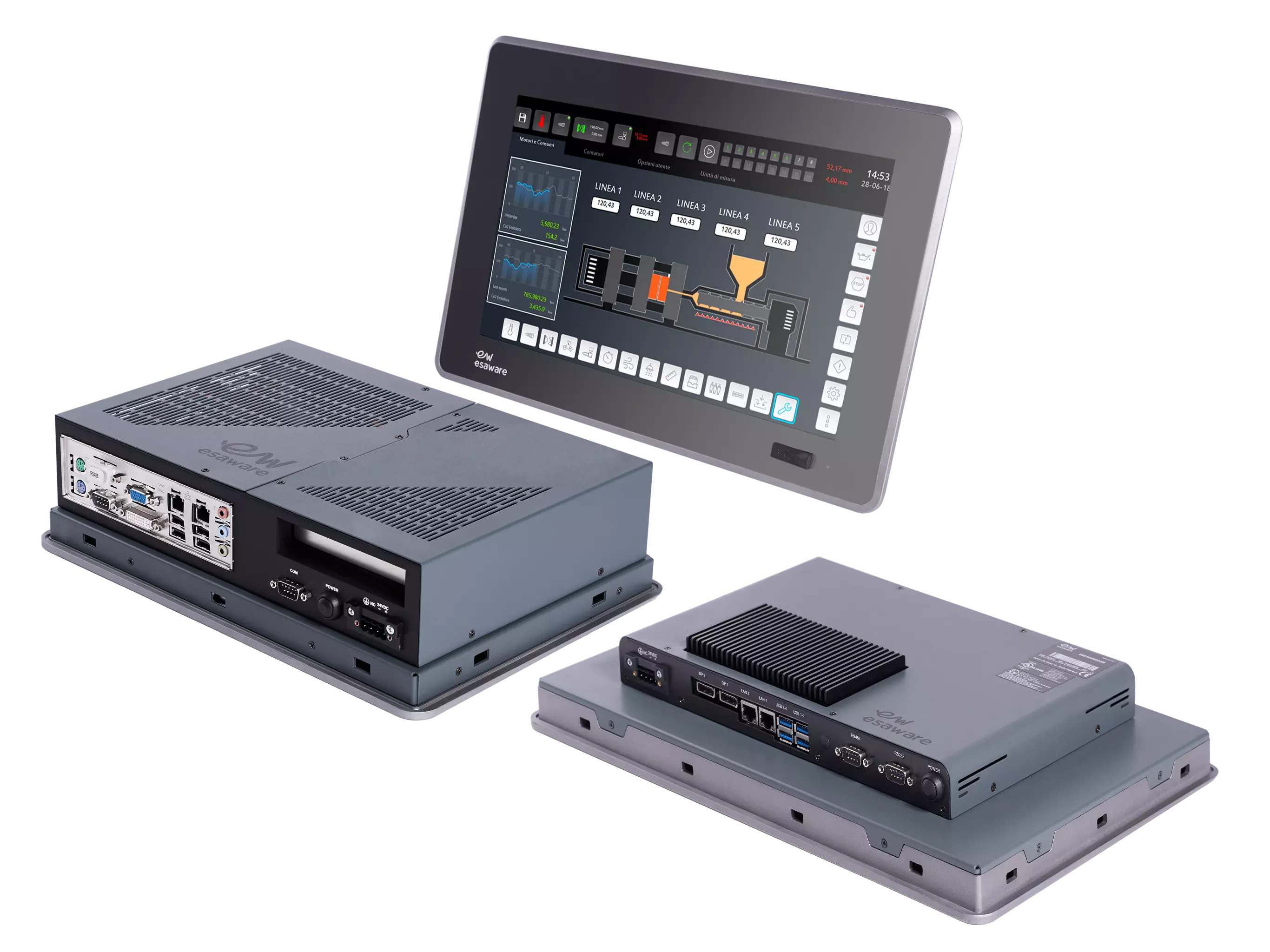 Industrial display ESA EW200 - IPC Panel
The ESA EW200 Panel IPC industrial display, with its intuitive interface and innovative features, is ideal for digitizing and optimizing industrial processes.
Wide 16:9 LCD screen and capacitive and resistive touchscreen.
Available in various sizes, from 12.1″ to 21.5″.
Our unique Twist design and non-stick PTFE finish prevent the accumulation of dust and dirt.
Wide choice of options and configurations.
Industrial Display PC ESA EW200 MITX Panel IPC :
EW212
EW215
EW218
EW222
Display Size
12,1"
15,6"
18,5"
21,5"
Display Technology
TFT / 16.7 M
TFT / 16.7 M
TFT / 16.7 M
TFT / 16.7 M
Display Brightness (cd/m²)
400
300
300
300
Contrast
1000
500
1000
5000
Viewing Angle
88/88/88/88
85/85/85/85
85/85/80/80
89/89/89/89
Display Resolution (pixel)
1280×800
1366×768
1366×768
1920×1080
Touch Technology
Resistive (5 wires) / Capacitive (PCT 10 keys)
Resistive (5 wires) / Capacitive (PCT 10 keys)
Resistive (5 wires) / Capacitive (PCT 10 keys)
Resistive (5 wires) / Capacitive (PCT 10 keys)
Bezel /Chassis
Aluminum - PTFE non-sticking coating/Sheet Steel
Aluminum - PTFE non-sticking coating/Sheet Steel
Aluminum - PTFE non-sticking coating/Sheet Steel
Aluminum - PTFE non-sticking coating/Sheet Steel
CPU Fanless Atom
Atom dual core N2800 1.86 GHz
Atom dual core N2800 1.86 GHz
Atom dual core N2800 1.86 GHz
Atom dual core N2800 1.86 GHz
CPU Fanless Celeron
Celeron Quad Core J1900 2.0 GHz
Celeron Quad Core J1900 2.0 GHz
Celeron Quad Core J1900 2.0 GHz
Celeron Quad Core J1900 2.0 GHz
CPU Fan Intel® Core™ 3G
Intel Core i3-3120ME 2.4GHz/ i5-3610ME 2.7GHz/ i7-3610QE 2.3 GHz
Intel Core i3-3120ME 2.4GHz/ i5-3610ME 2.7GHz/ i7-3610QE 2.3 GHz
Intel Core i3-3120ME 2.4GHz/ i5-3610ME 2.7GHz/ i7-3610QE 2.3 GHz
Intel Core i3-3120ME 2.4GHz/ i5-3610ME 2.7GHz/ i7-3610QE 2.3 GHz
CPU Fan Intel® Core™ 6G
Intel Celeron G3900TE 2.6GHz/ Intel Core i3-6100TE 2.7GHz/ i5-6500TE 2.3GHz/
i7-6700TE 2.4 GHz
Intel Celeron G3900TE 2.6GHz/ Intel Core i3-6100TE 2.7GHz/ i5-6500TE 2.3GHz/
i7-6700TE 2.4 GHz
Intel Celeron G3900TE 2.6GHz/ Intel Core i3-6100TE 2.7GHz/ i5-6500TE 2.3GHz/
i7-6700TE 2.4 GHz
Intel Celeron G3900TE 2.6GHz/ Intel Core i3-6100TE 2.7GHz/ i5-6500TE 2.3GHz/
i7-6700TE 2.4 GHz
Chipset
NM10 Atom / SoC / QM67 / Q170
NM10 Atom / SoC / QM67 / Q170
NM10 Atom / SoC / QM67 / Q170
NM10 Atom / SoC / QM67 / Q170
GPU embedded
GMA3650 650MHz / HD Graphics - 4000 / HD Graphics 9G 510-530
GMA3650 650MHz / HD Graphics - 4000 / HD Graphics 9G 510-530
GMA3650 650MHz / HD Graphics - 4000 / HD Graphics 9G 510-530
GMA3650 650MHz / HD Graphics - 4000 / HD Graphics 9G 510-530
RAM (Atom dual core)
up to 4GB DDR3 SODIMM 1066MHz 204 pin
up to 4GB DDR3 SODIMM 1066MHz 204 pin
up to 4GB DDR3 SODIMM 1066MHz 204 pin
up to 4GB DDR3 SODIMM 1066MHz 204 pin
RAM (Celeron Quad Core)
up to 8GB DDR3L SODIMM 1333MHz 204 pin
up to 8GB DDR3L SODIMM 1333MHz 204 pin
up to 8GB DDR3L SODIMM 1333MHz 204 pin
up to 8GB DDR3L SODIMM 1333MHz 204 pin
RAM (Intel® Core™ Fan) 3G
up to 16GB DDR3 SODIMM 1333/1600MHz 204 pin
up to 16GB DDR3 SODIMM 1333/1600MHz 204 pin
up to 16GB DDR3 SODIMM 1333/1600MHz 204 pin
up to 16GB DDR3 SODIMM 1333/1600MHz 204 pin
RAM (Intel® Core™ Fan) 6G
up to 32GB DDR4 SODIMM 1866/2133MHz 260 pin
up to 32GB DDR4 SODIMM 1866/2133MHz 260 pin
up to 32GB DDR4 SODIMM 1866/2133MHz 260 pin
up to 32GB DDR4 SODIMM 1866/2133MHz 260 pin
RS232 / RS485
2x RS232 + 1x RS232-422-485
2x RS232 + 1x RS232-422-485
2x RS232 + 1x RS232-422-485
2x RS232 + 1x RS232-422-485
USB Port IP66 front
1x -no capacitive-
1x -no capacitive-
1x -no capacitive-
1x -no capacitive-
USB Ports 2.0/3.0 rear
4/0 Atom - 3/1 Celeron - 4/0 iCore™ 3G - 0/4 I-Core 6G
4/0 Atom - 3/1 Celeron - 4/0 iCore™ 3G - 0/4 I-Core 6G
4/0 Atom - 3/1 Celeron - 4/0 iCore™ 3G - 0/4 I-Core 6G
4/0 Atom - 3/1 Celeron - 4/0 iCore™ 3G - 0/4 I-Core 6G
Ethernet (Atom dual core)
2x 1Gb RJ45 Intel 82574L
2x 1Gb RJ45 Intel 82574L
2x 1Gb RJ45 Intel 82574L
2x 1Gb RJ45 Intel 82574L
Ethernet (Celeron quad core)
2x 1Gb RJ45 Intel I210
2x 1Gb RJ45 Intel I210
2x 1Gb RJ45 Intel I210
2x 1Gb RJ45 Intel I210
Ethernet (Fan iCore™) 3G
2x 1Gb RJ45 Intel 82579LM / Realtek RTL8111DL
2x 1Gb RJ45 Intel 82579LM / Realtek RTL8111DL
2x 1Gb RJ45 Intel 82579LM / Realtek RTL8111DL
2x 1Gb RJ45 Intel 82579LM / Realtek RTL8111DL
Ethernet (Fan iCore™) 6G
2x 1Gb RJ45 Intel I210AT / I219LM
2x 1Gb RJ45 Intel I210AT / I219LM
2x 1Gb RJ45 Intel I210AT / I219LM
2x 1Gb RJ45 Intel I210AT / I219LM
VGA/DVI-D (Atom dual core)
1x / 1x (dimmable LCD backlit)
1x / 1x (dimmable LCD backlit)
1x / 1x (dimmable LCD backlit)
1x / 1x (dimmable LCD backlit)
VGA/DVI-D (Celeron quad core)
1x / 1x
1x / 1x
1x / 1x
1x / 1x
VGA/DVI-D (Fan iCore™) 3G
1x / 1x
1x / 1x
1x / 1x
1x / 1x
DVI-D/HDMI (Fan iCore™) 6G
1x / 1x
1x / 1x
1x / 1x
1x / 1x
Audio / PS2 (no iCore 6G)
1/0 (Atom-Celeron) - 1/1 (I-Core 3G)
1/0 (Atom-Celeron) - 1/1 (I-Core 3G)
1/0 (Atom-Celeron) - 1/1 (I-Core 3G)
1/0 (Atom-Celeron) - 1/1 (I-Core 3G)
CFast slot
1 x external accessible slot
1 x external accessible slot
1 x external accessible slot
1 x external accessible slot
Mechanical Slot (optional)
1x PCIe x1 - 1x miniPCIe - 1x PCIe x16 - 1x PCI
1x PCIe x1 - 1x miniPCIe - 1x PCIe x16 - 1x PCI
1x PCIe x1 - 1x miniPCIe - 1x PCIe x16 - 1x PCI
1x PCIe x1 - 1x miniPCIe - 1x PCIe x16 - 1x PCI
Drives - RAID 0/1
HDD min. 500GB / SSD min. 16GB / CFast min. 4GB - Option
HDD min. 500GB / SSD min. 16GB / CFast min. 4GB - Option
HDD min. 500GB / SSD min. 16GB / CFast min. 4GB - Option
HDD min. 500GB / SSD min. 16GB / CFast min. 4GB - Option
Power Supply (Vdc)
18...30 VDC (25W-15" basic)
18...30 VDC (25W-15" basic)
18...30 VDC (25W-15" basic)
18...30 VDC (25W-15" basic)
Consumption (W)
25W - 65W
25W - 65W
25W - 65W
25W - 65W
Operating Temperature (°C)
-10 ... + 50 (non-condensing)
-10 ... + 50 (non-condensing)
-10 ... + 50 (non-condensing)
-10 ... + 50 (non-condensing)
Storage Temperature (°C)
-20 ... + 65
-20 ... + 65
-20 ... + 65
-20 ... + 65
Humidity
85% (non-condensing)
85% (non-condensing)
85% (non-condensing)
85% (non-condensing)
External dimensions
(W/H/D) (mm)
340.5×238.5×87.8 (max)
436,5×285,5×87,8(max)
503,7×324,7×83,3
571,7×362,7×83,3
Cut-out dimensions
(W/H) (mm)
326,0×227,0
422,5×271,5
486,5×307,5
554,5×345,5
Weight (kg)
4,5
6
8,5
10,5
Protection degree (front)
IP66
IP66
IP66
IP66
Certifications
CE - EN61000-6-2 / EN61000-6-4 / EN60068-2-6/27/30 / cULus (Certificate no. E189179) / EAC / ATEX 2014/34/UE directive Group II Category 3 GD Zone 2/22
CE - EN61000-6-2 / EN61000-6-4 / EN60068-2-6/27/30 / cULus (Certificate no. E189179) / EAC / ATEX 2014/34/UE directive Group II Category 3 GD Zone 2/22
CE - EN61000-6-2 / EN61000-6-4 / EN60068-2-6/27/30 / cULus (Certificate no. E189179) / EAC / ATEX 2014/34/UE directive Group II Category 3 GD Zone 2/22
CE - EN61000-6-2 / EN61000-6-4 / EN60068-2-6/27/30 / cULus (Certificate no. E189179) / EAC / ATEX 2014/34/UE directive Group II Category 3 GD Zone 2/22
Industrial Display PC ESA EW200 SLIM Panel IPC :
EW212
EW215
EW218
EW222
Display Size
12,1"
15,6"
18,5"
21,5"
Display Technology
TFT / 16.7 M
TFT / 16.7 M
TFT / 16.7 M
TFT / 16.7 M
Display Brightness (cd/m²)
400
300
300
300
Contrast
1000:1
500:1
1000:1
5000:1
Viewing Angle H-V
88/88/88/88
85/85/85/85
85/85/80/80
89/89/89/89
Display Resolution (pixel)
1280×800
1366×768
1366×768
1920×1080
Backlight life (hours)
50K
50K
50K
50K
Touch Technology
Resistive (5 wires) / Capacitive (PCT 10 keys)
Resistive (5 wires) / Capacitive (PCT 10 keys)
Resistive (5 wires) / Capacitive (PCT 10 keys)
Resistive (5 wires) / Capacitive (PCT 10 keys)
Bezel /Chassis
Aluminum - PTFE non-sticking coating/Sheet Steel
Aluminum - PTFE non-sticking coating/Sheet Steel
Aluminum - PTFE non-sticking coating/Sheet Steel
Aluminum - PTFE non-sticking coating/Sheet Steel
CPU Fanless Celeron 4G
Celeron quad core J1900 2.0 GHz (2.42GHz) - 10W
Celeron quad core J1900 2.0 GHz (2.42GHz) - 10W
Celeron quad core J1900 2.0 GHz (2.42GHz) - 10W
Celeron quad core J1900 2.0 GHz (2.42GHz) - 10W
Fanless Intel® Core™ 4G CPU
Intel Core i3-4010U 1.7GHz / i7-4650U 1.7GHz (3.3GHz) - 15W
Intel Core i3-4010U 1.7GHz / i7-4650U 1.7GHz (3.3GHz) - 15W
Intel Core i3-4010U 1.7GHz / i7-4650U 1.7GHz (3.3GHz) - 15W
Intel Core i3-4010U 1.7GHz / i7-4650U 1.7GHz (3.3GHz) - 15W
Chipset
SoC
SoC
SoC
SoC
Embedded Celeron J1900 GPU
HD Graphics
HD Graphics
HD Graphics
HD Graphics
embedded i-core i3-4010U GPU
HD Graphics 4400
HD Graphics 4400
HD Graphics 4400
HD Graphics 4400
embedded i-core i7-4650U GPU
HD Graphics 5000
HD Graphics 5000
HD Graphics 5000
HD Graphics 5000
RAM (Celeron quad core)
on board 4GB DDR3L 1066/1333MHz - dual channel -
on board 4GB DDR3L 1066/1333MHz - dual channel -
on board 4GB DDR3L 1066/1333MHz - dual channel -
on board 4GB DDR3L 1066/1333MHz - dual channel -
RAM (Fanless Intel® Core™)
up to 8GB DDR3L SODIMM1333/1600MHz 204 pin -single channel-
up to 8GB DDR3L SODIMM1333/1600MHz 204 pin -single channel-
up to 8GB DDR3L SODIMM1333/1600MHz 204 pin -single channel-
up to 8GB DDR3L SODIMM1333/1600MHz 204 pin -single channel-
RS232 / RS485
1x RS232 + 1x RS485
1x RS232 + 1x RS485
1x RS232 + 1x RS485
1x RS232 + 1x RS485
USB Port IP66 front
1x -no capacitive-
1x -no capacitive-
1x -no capacitive-
1x -no capacitive-
USB Ports 2.0/3.0 rear
1x 2.0 + 1x 3.0 cpu J1900 / 4x 3.0 cpu Intel®Core™
1x 2.0 + 1x 3.0 cpu J1900 / 4x 3.0 cpu Intel®Core™
1x 2.0 + 1x 3.0 cpu J1900 / 4x 3.0 cpu Intel®Core™
1x 2.0 + 1x 3.0 cpu J1900 / 4x 3.0 cpu Intel®Core™
Ethernet Celeron J1900
2x 1Gb RJ45 Intel I210
2x 1Gb RJ45 Intel I210
2x 1Gb RJ45 Intel I210
2x 1Gb RJ45 Intel I210
Ethernet i-Core™ i3/i7
2x 1Gb RJ45 Intel I210/I218
2x 1Gb RJ45 Intel I210/I218
2x 1Gb RJ45 Intel I210/I218
2x 1Gb RJ45 Intel I210/I218
VGA/DP ( Celeron J1900)
1x / 1x (DP passive cable required)
1x / 1x (DP passive cable required)
1x / 1x (DP passive cable required)
1x / 1x (DP passive cable required)
DP (i-Core™ i3/i7)
2x (DP active cable required)
2x (DP active cable required)
2x (DP active cable required)
2x (DP active cable required)
RAID 0/1
2x SSD on cpu i-core / 2x mSATA on cpu J1900
2x SSD on cpu i-core / 2x mSATA on cpu J1900
2x SSD on cpu i-core / 2x mSATA on cpu J1900
2x SSD on cpu i-core / 2x mSATA on cpu J1900
Expansion Slot
1x miniPCIe CPU J1900 / 2x miniPCIe CPU i-Core
1x miniPCIe CPU J1900 / 2x miniPCIe CPU i-Core
1x miniPCIe CPU J1900 / 2x miniPCIe CPU i-Core
1x miniPCIe CPU J1900 / 2x miniPCIe CPU i-Core
Drives externally accessible
CFast slot (optional)
CFast slot (optional)
CFast slot (optional)
CFast slot (optional)
Drives (internal)
HDD min. 500GB / SSD min. 128GB / mSATA min.32GB (options)
HDD min. 500GB / SSD min. 128GB / mSATA min.32GB (options)
HDD min. 500GB / SSD min. 128GB / mSATA min.32GB (options)
HDD min. 500GB / SSD min. 128GB / mSATA min.32GB (options)
Power Supply (Vdc)
15...36 VDC (25W-15" basic)
15...36 VDC (25W-15" basic)
15...36 VDC (25W-15" basic)
15...36 VDC (25W-15" basic)
Consumption (W)
25 – 50
25 – 50
25 – 50
25 – 50
Operating Temperature (°C)
-10 ... + 50 (non-condensing)
-10 ... + 50 (non-condensing)
-10 ... + 50 (non-condensing)
-10 ... + 50 (non-condensing)
Storage Temperature (°C)
-20 ... + 65
-20 ... + 65
-20 ... + 65
-20 ... + 65
Humidity
90% (non-condensing)
90% (non-condensing)
90% (non-condensing)
90% (non-condensing)
External dimensions
(W/H/D) (mm)
340.5×238.5×66.6 (max)
436.5×285.5×66.6 (max)
503,7×324,7×62,1
571,7×362,7×62,1
Cut-out dimensions
(W/H) (mm)
326,0×227,0
422,5×271,5
486,5×307,5
554,5×345,5
Weight (kg)
4,5
6
8,5
10,5
Operating systems
WIN7-WES7-WIN8.1
WIN7-WES7-WIN8.1
WIN7-WES7-WIN8.1
WIN7-WES7-WIN8.1
Protection degree (front)
IP66
IP66
IP66
IP66
Certifications
CE / EN61000-6-2 / EN61000-6-4 / EN60068-2-6 / EN60068-2-6/27/30 / cULus (Certificate no. E189179) / EAC / ATEX 2014/34/UE directive Group II Category 3 G D Zone 2/22
CE / EN61000-6-2 / EN61000-6-4 / EN60068-2-6 / EN60068-2-6/27/30 / cULus (Certificate no. E189179) / EAC / ATEX 2014/34/UE directive Group II Category 3 G D Zone 2/22
CE / EN61000-6-2 / EN61000-6-4 / EN60068-2-6 / EN60068-2-6/27/30 / cULus (Certificate no. E189179) / EAC / ATEX 2014/34/UE directive Group II Category 3 G D Zone 2/22
CE / EN61000-6-2 / EN61000-6-4 / EN60068-2-6 / EN60068-2-6/27/30 / cULus (Certificate no. E189179) / EAC / ATEX 2014/34/UE directive Group II Category 3 G D Zone 2/22

  English documentation